I'm so excited to be featuring another recipe from a friend this week! This coconut cashew curry soup is adapted from Karrie Truman's new cookbook, Seriously Good Freezer Meals: 150 Easy Recipes to Save Your Time, Money & Sanity (Robert Rose, 2018). I met Karrie last year at a food conference, and it was like meeting a soul sister. We instantly bonded over Korean food, our mutual passion for feeding our families well while balancing crazy schedules, and the universal challenges of mom-hood (although she one-ups me… er two-ups me… there with four kids). Karrie started creating make-ahead meals on the weekends when her kids were young, which she would freeze for the week or month ahead. The lady has made over 50 meals in ONE DAY (that qualifies her as some sort of superhero, right?)! She's seriously obsessed, and her book showcases over 150 dinners, breakfasts, desserts and everything in-between.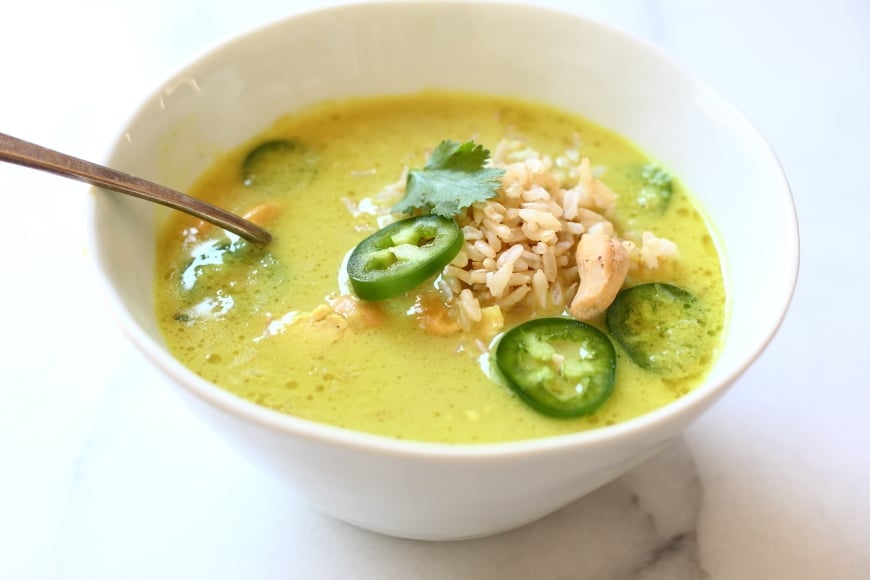 Creamy coconut cashew soup
This coconut cashew soup is adapted from Karrie's Coconut Cashew Basil Curry Soup, which is in the book. It's dead-simple to make, with a quick curry base that gets whizzed up in the food processor (you know how much I love my food processor!), along with sautéed chicken, coconut milk and chicken broth. It gets topped with fresh basil, cilantro, crunchy cashews, and jalapeños for a pop of heat. I like to serve the soup with a big scoop of brown rice to soak up all the broth.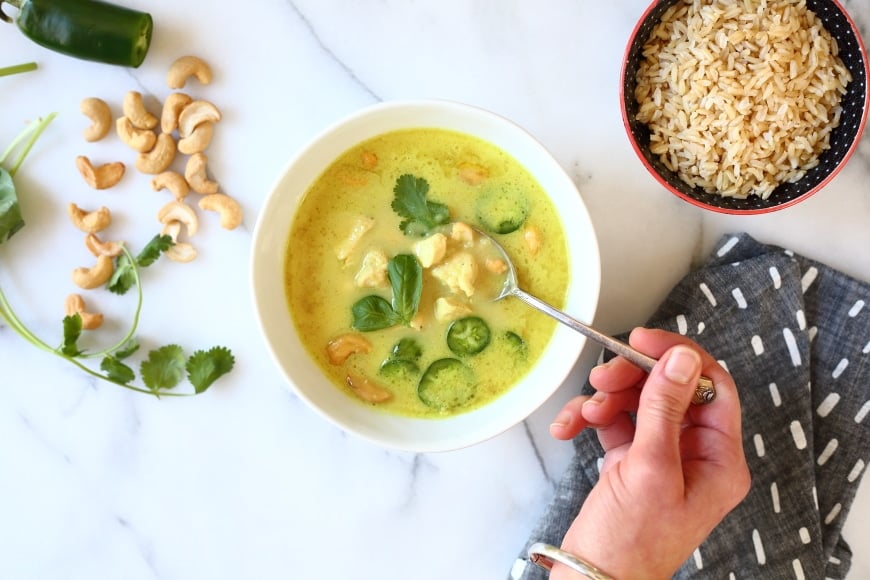 You can eat it right away or freeze it for the week (or month!) ahead. I currently have a batch waiting for me in the freezer, which we're eat on Thursday night since I'll be working late. Ahhh, there are few things as satisfying as having a nutritious dinner at the ready the minute I walk in the door, without having to lift a finger. 🙂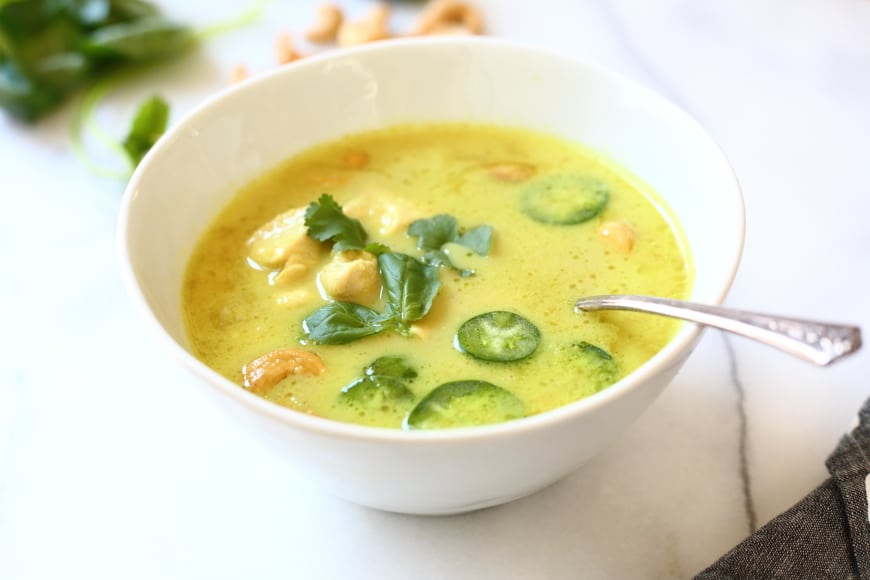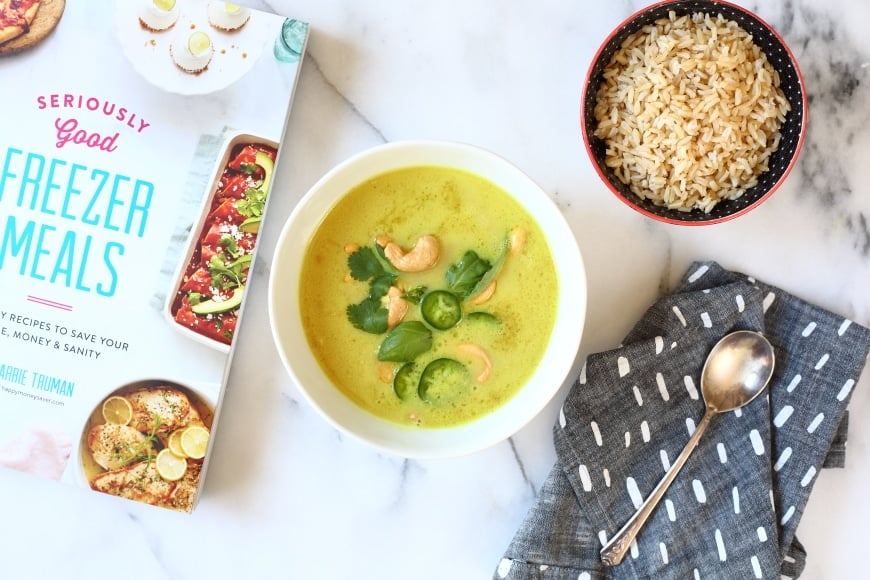 Coconut Cashew Curry Soup
This soup is adapted from Karrie Truman's new cookbook, Seriously Good Freezer Meals: 150 Easy Recipes to Save Your Time, Money & Sanity (Robert Rose, 2018). A super quick and easy curried coconut chicken soup gets served with fresh basil, cilantro, crunchy cashews and sliced jalapeños for a bright and healthy meal. You can either eat the soup right away, or you can cool it then store it in an airtight container or ziptop freezer bag and freeze it for several weeks (defrost it in the fridge overnight or in a bowl of lukewarm water). While Karrie uses chicken breasts in the soup, I prefer thighs for their flavor and texture. I also cook the curry base before adding the liquid for a bit more flavor, as outlined below.
Ingredients
2

pounds

boneless skinless chicken thighs, finely diced

Salt and freshly ground black pepper

½

teaspoon

granulated garlic

3

tablespoons

virgin coconut oil or vegetable oil, divided

1

small onion, quartered

1

tablespoon

minced garlic

1

teaspoon

minced or grated fresh ginger

½

jalapeño pepper

2

tablespoons

curry powder

2

cans coconut milk

2

cups

low-sodium chicken broth

1 ½

teaspoons

dried basil
For serving
Brown rice, optional

Roasted, salted cashews

Chopped fresh basil

Cilantro leaves

Sliced jalapeño pepper
Instructions
Season the chicken with salt and pepper, and sprinkle with the granulated garlic (or, if you have garlic salt, you can use that instead as Karrie does). Heat 2 tablespoons of the oil in a large skillet or wok over high heat. Working in batches, cook the chicken, stirring occasionally, until browned, 3 to 4 minutes. Transfer the chicken to a bowl and set aside.

In a food processor, combine the onion, garlic, ginger and jalapeño pepper. Process until smooth.

In a large pot, heat the remaining tablespoon of oil over medium heat. Add the curry base from the food processor along with the curry powder. Season with salt and pepper. Cook, stirring often, until the mixture is sizzling and smells delicious. Add the coconut milk, chicken broth and basil, and bring to a boil. Reduce the heat to a simmer, and cook 15 minutes. Add the chicken and cook 5 minutes longer. Serve the soup with a scoop of brown rice if you'd like, and top with cashews, basil, cilantro and jalapeño pepper slices.
Stay Connected!
I'd love to hear what you're cooking, and I'm happy to answer any questions! #FromScratchFast
Instagram: FromScratchFast
Facebook: FromScratchFast
Pinterest: FromScratchFast
YouTube: FromScratchFast
*This post contains affiliate links, which means that if you purchase a product through a link you clicked on here, I receive a portion of the sale (at no cost to you). Thank you for supporting FromScratchFast!!