Sunday nights are an institution in our house.  They are by far my favorite night of the week.  I decided long ago that rather than face the dread of having to go back to work, Sundays would instead become a celebration.  We plan a special family dinner, and it always starts with a martini for the adults (a tradition that I—and my brothers, for that matter—have carried on from my parents).  When James and I lived in Brooklyn in the pre-family era, Sunday supper was often an elaborate multi-course affair that we (read I) would spend hours preparing in our tiny alleyway kitchen.  Today, however, the meals are more often than not incredibly simple, especially in the summer when we'd rather be spending our days hiking, swimming or socializing than tied to the stove.
This coffee-marinated pork tenderloin is just the thing for these sultry summertime Sundays.  I actually developed the recipe for Father's Day, when I wanted to do something special but simple since we were going to be out all day.  The pork gets marinated the day before, so all I had to do come dinnertime was make the Curried Carrot Coconut Rice (say that three times quickly!) and grill some veggies alongside the pork.  The pork was redolent of coffee (decaf, since I'm feeding a toddler), molasses, lime and soy, and it paired amazingly with the sweet, curry- and raisin-laced rice.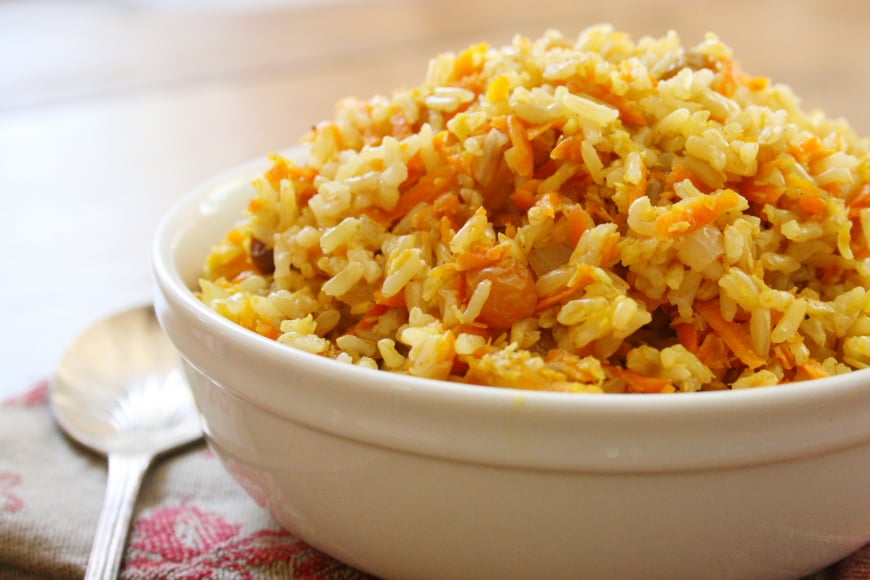 About that rice.  It's addicting. It's made in the style of a rice pilaf, but it has a higher vegetable-to-rice ratio so is a bit more moist than your standard pilaf.  I've since served it with curry-dusted fish, grilled chicken kabobs and on its own as a vegetarian side dish.  Delicious.  If you don't want to monitor the stove while the rice cooks, you can transfer the rice/vegetable mixture to a rice cooker before adding the water—a useful trick if you have an errand to run or a child to chase.
James loved his Father's Day meal, and Ella even instigated a celebratory dance party in the kitchen after dinner.  She wasn't even influenced by a martini.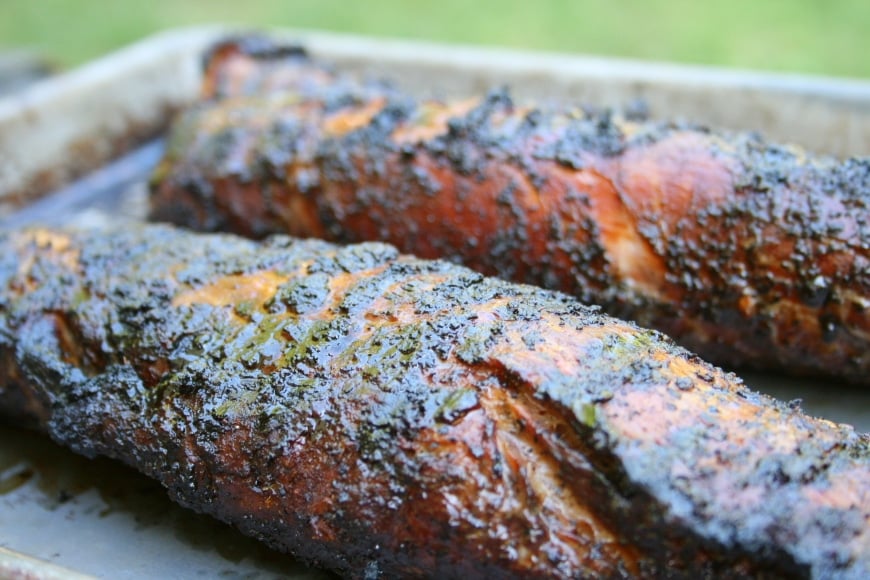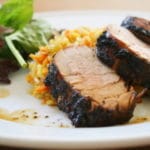 Coffee-Marinated Grilled Pork Tenderloin
The pork needs to marinate overnight, so start this the day before. The pork is awesome with the Curry Carrot Coconut rice, which has a sweetness that marries perfectly with the coffee marinade.
Ingredients
2

garlic cloves

, peeled

1

tablespoon

minced fresh ginger

½

jalapeño chile

, seeded and finely diced

½

cup

ground coffee

(regular or decaf)

¼

cup

low-sodium tamari or soy sauce

¼

cup

maple syrup

¼

cup

blackstrap molasses

½

cup

olive oil

Zest and juice from 1 lime

1

teaspoon

sea salt

½

teaspoon

freshly ground black pepper

2

pork tenderloins

(about 2- 2 ½ pounds total), trimmed and silverskin removed

Curried Carrot Coconut Rice
Instructions
In a mini food processor with the blade running, add the garlic cloves and process until chopped. Add the rest of the ingredients except for the pork and process until smooth. Put the pork tenderloins in a large resealable plastic bag and pour the marinade over to coat. Seal and refrigerate overnight. Do Ahead: The pork can be marinated up to 24 hours in advance.

Take the pork out of the fridge and let sit at room temperature 30-60 minutes. Preheat a grill to medium-high heat. Remove the pork from the marinade and pat dry.

Oil the grill. Put the tenderloins on the grill and reduce the heat to medium. Cover and cook 8-10 minutes. Flip meat over and cook another 8-10 minutes, or until an instant read thermometer inserted in the thickest part reads 145˚F. Transfer to sheet pan and let rest 10 minutes (reserve juices). Slice and serve over Curried Carrot Coconut Rice with a drizzle of the juices.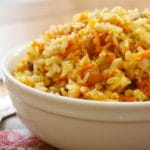 Curried Carrot Coconut Rice
This mélange of carrots, coconut and brown rice has a hint of sweetness from curry powder and golden raisins. It's made just like a pilaf, but with a higher ratio of vegetables to rice. It's a fantastic side dish with coffee-marinated grilled pork tenderloin as well as with seared fish, shrimp or scallops.
Ingredients
1

tablespoon

organic extra virgin

(unrefined) coconut oil

½

medium onion

, finely diced

Sea salt and freshly ground black pepper

1

tablespoon

minced ginger

2

medium carrots

, shredded

¼

cup

shredded unsweetened coconut

¼

teaspoon

curry powder

¼

teaspoon

garam masala

¼

cup

golden raisins

1

cup

brown basmati rice
Instructions
In a medium saucepan, melt the coconut oil over medium heat. Add the diced onion with a pinch of salt and pepper. Cook, stirring occasionally, until the onion is tender and translucent but not browned, about 6-8 minutes. Add the ginger, carrots, coconut, curry powder, garam masala and another pinch of salt. Cook, stirring, 2-4 minutes. Add the golden raisins and brown rice and cook, stirring, 1-2 minute. Pour in 1 ¾ cups water with another pinch of salt and bring to a boil (or you can transfer the mixture to a rice cooker and add the water, then start the cooker and let it do its thing). Reduce the heat to a simmer and cook, covered, 45-55 minutes, or until the water is absorbed and the rice is tender.

Remove from heat and let sit, covered, 5-10 minutes. Fluff and season with additional salt to taste.