It's raining and chilly, and I'm sitting on my front porch in the dark listening to the drip, drip, drip off of the leaves. I just got home from a week in France for work (I know, woe is me!), and for the last month life has been speeding by quicker than the AirFrance airbus I flew home on. This week is therefore all about stabilization and rejuvenation. Slowing down and centering. In other words, soup.
For me, there's nothing as cathartic on a rainy or hectic day then slurping a steaming bowl of soup (although warm biscuits, hot tea and Billie Holiday are up there on the list). James did a good job of buying a load of produce at the farmer's market while I was away, albeit without a plan. If you're ever wondering what to do with a refrigerator drawer of vegetables, make soup. It's easy, and it's the perfect way to use up odds and ends. Best of all, you don't need a recipe. Follow a few simple guidelines, and you can make a delicious vegetable soup with nearly anything.
This is what I had to work with: 1 onion, 1 fennel bulb, 1 yellow pepper, 2 yellow squashes, 1 zucchini, garlic, herbs from my garden (rosemary, thyme and parsley) and pesto leftover from the night before.
Here's how you make vegetable soup:
First, get a big pot and a wooden spoon. They don't have to be pretty. My favorite wooden spoon is blackened at the tip and slightly bent but feels as smooth as butter in my hands. Coat the bottom of the pot generously with extra virgin olive oil and heat it gently.
Add diced "hardy" veggies. Onions, fennel, peppers, carrots and celery all fall into this category. Cook the veggies with a big pinch of salt until they are soft and tender but not browned. Don't rush them too much (medium heat is good or even lower if you have the time); this is where you'll build a lot of flavor.
Next, add seasonings: garlic, ginger and robust herbs like rosemary and thyme. Stir until fragrant. This is also the time to add spices such as curry powder, cumin or chile powder. You want the spices to toast slightly.
Things are now smelling amazing, and it's time for the "soft" veggies, including squash of all persuasions (summer or winter), broccoli, cauliflower or potatoes. Give them a stir and let them meld with the other flavors for a few minutes. Remember to keep seasoning with salt as you go.
Add broth or water or a mix of both to cover. Drop in a bay leaf if you have one. Bring the soup to a simmer and cook until the vegetables are tender. At this point you can puree the soup with a hand blender or in a regular blender. Or, drop in some chopped greens and let them wilt down. Or, can add some cooked rice or noodles.
Finish the soup with a squeeze of lemon juice or a few drops of vinegar (this is key—the acid will do wonders for brightening the flavor), chopped fresh herbs if you want (like parsley or basil) and salt. You will add what seems like a lot of salt. Keep going. It's a big pot of soup. Trust me.
Serve the steaming elixir in deep bowls with a drizzle of really good extra virgin olive oil and any "dollops," if you so desire, such as pesto, crème fraiche or yogurt. I like to sprinkle a little Maldon sea salt over the top for texture, and sometimes red pepper flakes if I'm in the mood for some heat.
Crusty bread, grilled cheese and/or a salad are all good accompaniments to the soup. Make it your meal. You can even relive the experience tomorrow at lunch (or next month if you freeze the leftovers)—it only gets better with age. All of this, from just a few vegetables.
I'm feeling sated and sedated, and I hear a rumble of thunder in the distance. Mmm, thank you rain.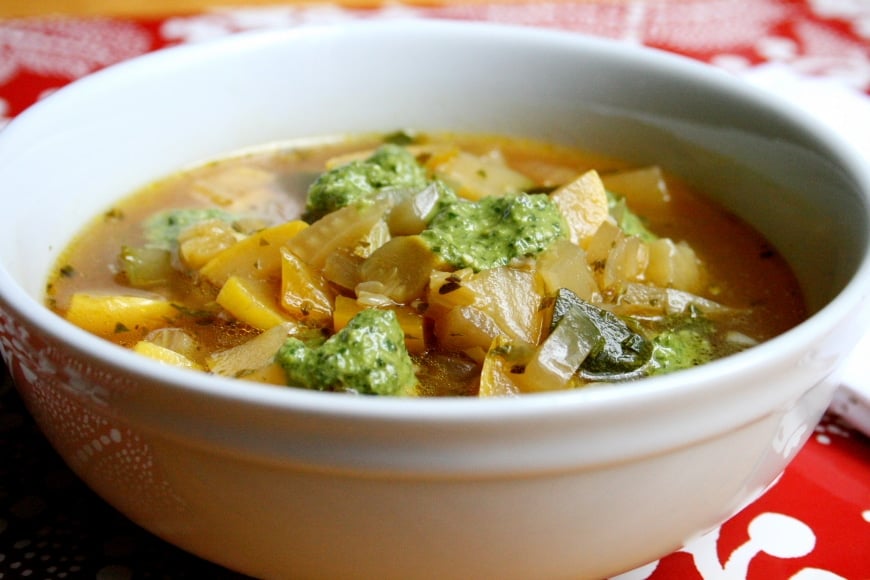 Vegetable Soup 101
This was a clean-out-the-vegetable-drawer-creation. Therefore, think of this as a guideline, not a recipe. Use whatever vegetables you have, and feel free to add spices or other seasonings as desired. This soup would also be great with rice or orzo (cook them separately and add them at the end).
Ingredients
Extra virgin olive oil

1

large onion

, diced

1

large fennel bulb

, diced

1

yellow bell pepper

, diced

Sea salt and freshly ground black pepper

3

large garlic cloves

1

teaspoon

chopped fresh rosemary

½

teaspoon

chopped fresh thyme

2

medium yellow squashes

, diced

1

medium zucchini

, diced

3

cups

homemade or low-sodium chicken or vegetable broth

1

bay leaf

1-2

tablespoons

finely chopped parsley

Lemon wedge

Good extra virgin olive oil for drizzling

Pesto for serving

Maldon sea salt for serving

(optional)
Instructions
Heat a big glug of extra virgin olive oil in a large pot over medium heat (you'll want enough oil to generously coat the bottom of the pot). Add the onions, fennel and pepper (I usually add the onions first and let them get started while I chop the others) with a pinch of salt and pepper. Cook, stirring, until the vegetables are tender but not browned. You can cover the pan if you wish to speed things up a bit.

Add the garlic, rosemary and thyme, and stir until fragrant. Add the yellow squash and zucchini with another pinch of salt, and cook for a few minutes, stirring often, to let the flavors marry.

Pour in 3 cups of broth and 3 cups of water—you just want enough liquid to aptly cover the vegetables. Slide in a bay leaf. Bring the soup to a simmer and cook until the vegetables are tender, about 5-10 minutes. Taste and add additional salt and pepper as needed. Don't be shy with the salt; it's not as much as it seems. Remove the soup from the heat and stir in a tablespoon or two of chopped parsley and a squeeze of lemon juice (this will brighten the flavors). Serve the soup in big bowls with a drizzle of extra virgin olive oil, a dollop of pesto and a sprinkle of Maldon sea salt, if you wish.