Comté cheese fondue
This Comté cheese fondue is one of my family's favorite meals. It has a silky texture and deliciously nutty flavor. Best of all, it comes together in under 30 minutes!
Valentine's Day fondue
I must confess something. I love Valentine's Day. Don't roll your eyes! For me, it has very little to do with romantic love, but rather family. As a kid my dad was routinely out of town on Valentine's Day, but my mom would always have heart-shaped boxes of chocolates for my brothers and me, and she would make a special dinner, even if it was just pasta with a jar of red sauce. It felt like such a treat—a scarlet evening in the middle of gray winter, usually on a school-night. Plus, let's admit it, I'm always up for an excuse to celebrate, whatever the occasion.
James and I started celebrating Valentine's Day at home with fondue before the girls were born, and today it's one of our favorite family traditions. Both girls LOVE it, and we turn it into a full meal with lots of dippers. There's something so fun about sharing a bubbling pot of food.
What are good dippers for cheese fondue?
To transform the fondue into a full meal, I serve it with cubed baguette, steamed broccoli and cauliflower, chunks of garlicky sausage and slices of raw apple for dipping. Roasted or steamed fingerling potatoes, sweet potatoes, turnips and carrots are also good options!
What type of cheese is used in fondue?
I always make fondue with Comté cheese (full disclosure - I used to work with the Comté Cheese Association, but regardless, it's my favorite cheese in the world). It's nutty and buttery and melts beautifully. You could also use Gruyere or a good quality Emmenthaler, or a mix of both.
How do you make cheese fondue?
This Comté cheese fondue is both quick and easy. Simply toss shredded cheese with cornstarch (this helps bind the fondue, ensuring it won't break), and melt it slowly into simmering white wine. Voila! Told you it was simple. ?
How else do you use Comté Cheese?
I use Comté in pretty much any dish that involves melted cheese. Here are some of my favorites!
Dessert fondue
For dessert we finish with a small bowl of this chocolate fondue. It comes together in minutes using just three ingredients, and you don't need a fondue pot! We dunk in fruit and chunks of whatever frozen cakes/cookies I have hiding in the freezer. ?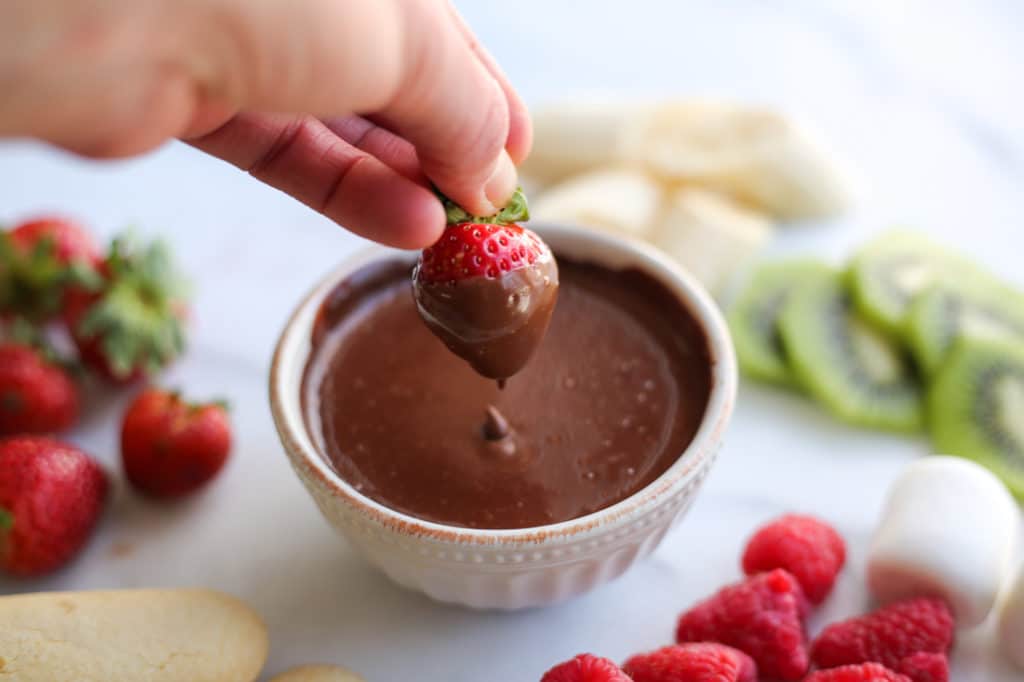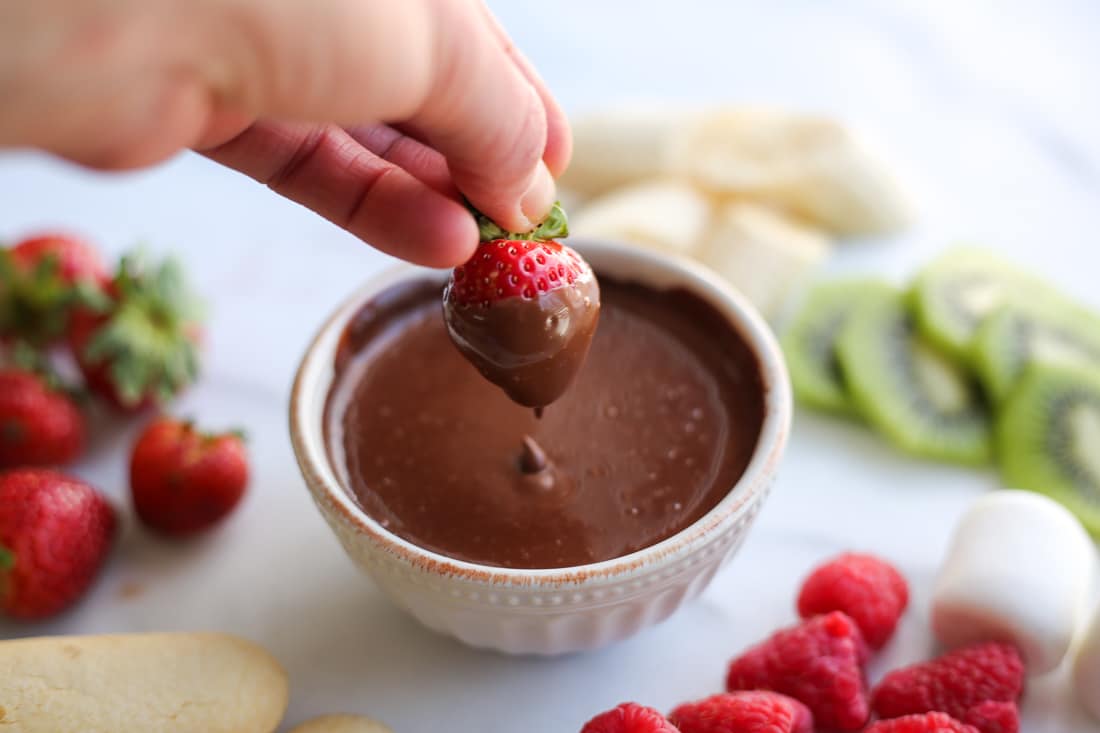 Tips for making cheese fondue:
You will need a fondue pot for this recipe. I recommend an enameled cast-iron pot, which won't scorch on the bottom.
You can find Comté cheese at specialty stores and many supermarkets, such as Whole Foods, Costco, Wegmans and Shoprite (different locations vary).
To shred the cheese quickly, using the shredding disk in a food processor!
Tossing the shredded cheese in cornstarch helps thicken the fondue.
Adding the cheese slowly to the simmering wine will ensure that the cheese melts evenly and that the fondue doesn't break (which occurs when the oil in the cheese separates).
Get the recipe!
Comté Fondue
This silky Comte cheese fondue is easy to make and utterly irresistible! It makes for a fun, hands-on dinner that the whole family loves. If you can't find Comté, try a good quality Gruyere or Emmenthaler, or a mix of both.
Ingredients
1

pound

mature Comté (preferably 10-18 months), shredded (about 5 cups shredded)

2

tablespoons

cornstarch

1

garlic clove, peeled and halved

1

cup

plus 2 tablespoons dry white wine

Freshly ground black pepper

Good quality crusty bread, cut or torn into bite-sized pieces

Steamed or roasted vegetables (such as broccoli, cauliflower, carrots and/or fingerling potatoes), sausages and sliced apples for serving (optional)
Instructions
In a large bowl, toss the shredded Comté and cornstarch until well combined.

Rub the inside of fondue pot with cut sides of garlic. Discard garlic. Add wine and bring to boil.

Reduce heat to medium-low. Add a quarter of the Comté and stir until melted. Continue stirring in cheese, a quarter at a time, until melted. Cook, stirring, until fondue is completely smooth and richly coats the back of a spoon. Season with freshly ground black pepper.

Serve the hot fondue with crusty bread for dipping, along with steamed vegetables, sausages and apple slices, if you wish.
I'd love to answer any of your questions and see what you're cooking!! Don't forget to rate this recipe and leave a comment below. Follow along on Instagram, Facebook, YouTube & Pinterest, and be sure to tag @fromscratchfast so that I can share your creations!
*This post contains Amazon and other affiliate links to products I use and love (from which I earn income, at no cost to you). Thank you or supporting From Scratch Fast!