If you're looking for a pie recipe that is easy to make and that's as cozy as a cashmere sweater, then this rustic apple galette recipe is for you. The galette recipe is far easier than a double crust pie, and I'll guide you through all the steps - don't miss the step-by-step VIDEO below! Also, if you're gluten free like me (or if you're serving GF guests), you can make this apple galette gluten free, and nobody will have a clue.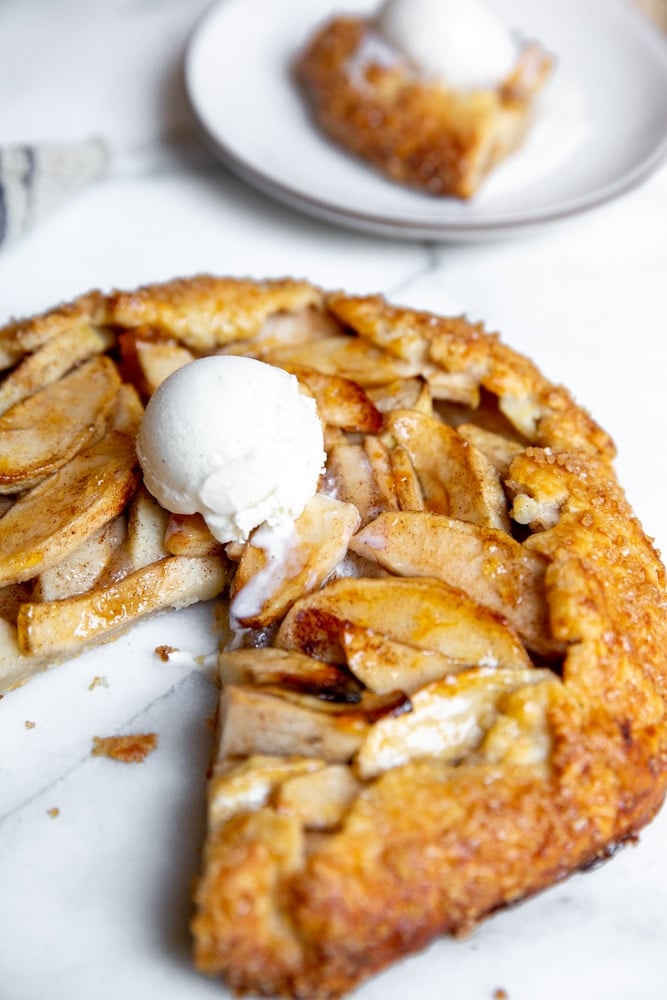 For more pie recipes, check out my Mastering Gluten Free Pie Making course!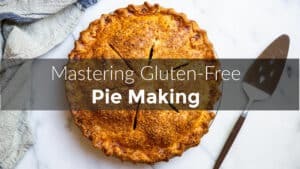 Easy apple galette recipe
There's something about apple pie that makes me so happy. Maybe it's because my mom made apple pie for Thanksgiving and Christmas every year, or maybe it's because it's just freaking delicious, but apple pie has got to be one of the coziest, most joyful of desserts. This apple galette recipe has all the flavors and textures of a traditional pie, but it's far easier to make (and even more beautiful!).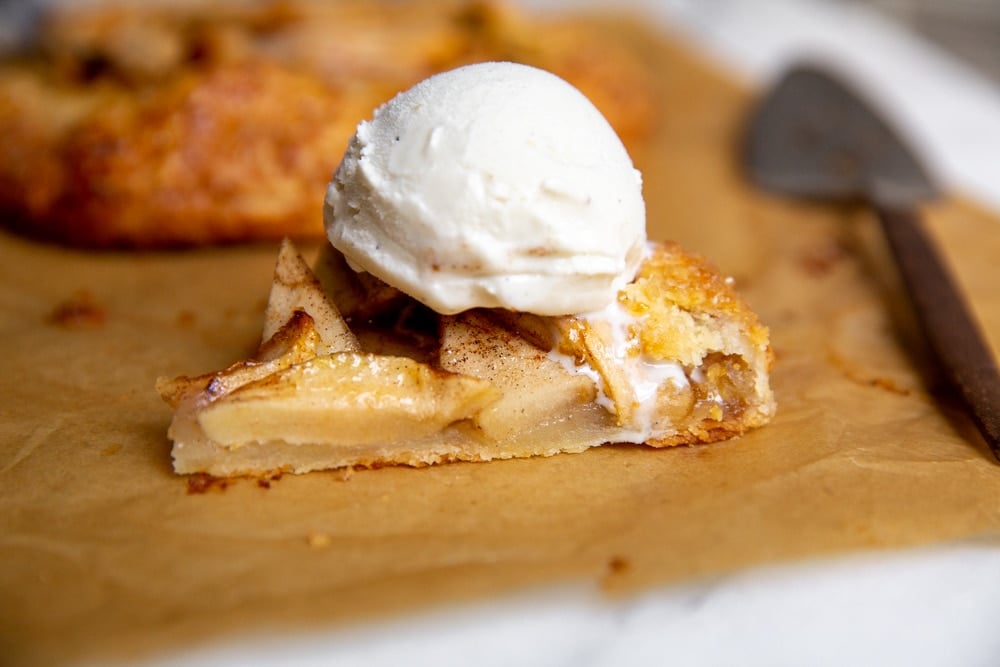 Rustic apple galette
As I mentioned in this strawberry galette post, the beauty of galettes is that they're supposed to look rustic. Instead of having to transfer pie dough to a dish, this galette gets rolled out and assembled right on a piece of parchment paper (no transferring needed!). Forget about fussy crimping, this dough is also simply folded over an easy apple filing.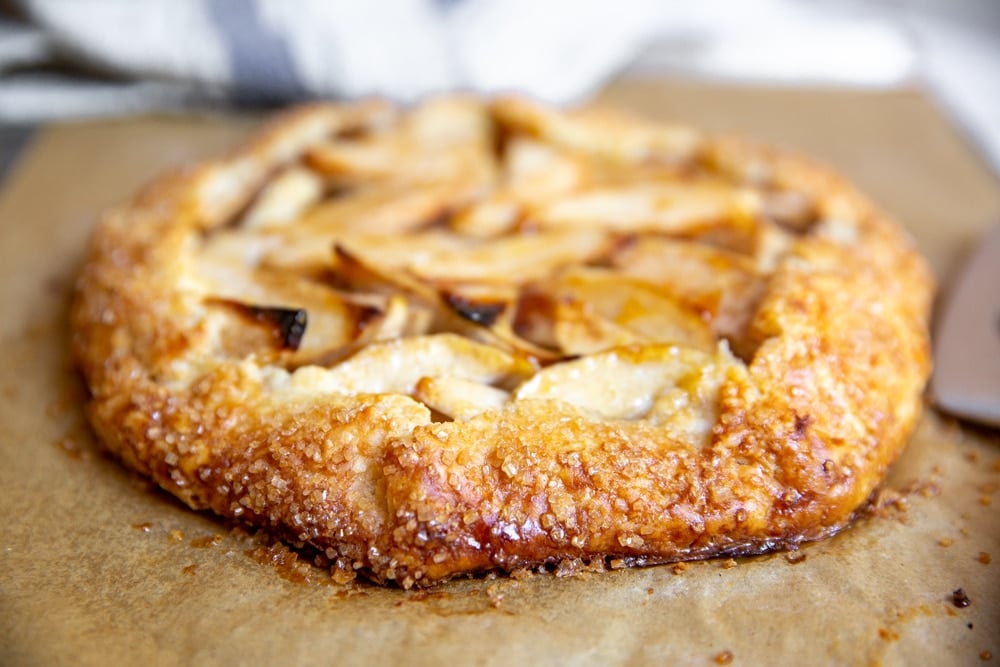 Gluten free apple galette
You can easily make a gluten free apple galette, and I promise nobody will even know! The galette is made with my perfect pie dough recipe, which can be made with regular all-purpose flour or Cup 4 Cup Gluten Free Flour (I've tested several different gluten-free flours, and Cup 4 Cup is by far the easiest to work with and has the best flavor).
Apple crostata filling
Another benefit of making a galette as opposed to a double crust pie is that you only need 3 apples for this recipe (meaning less peeling and slicing!). You can use any apple variety you like. In this recipe, the apples are flavored with cinnamon, cardamom and vanilla.
How do you make an apple galette from scratch?
Mix together thinly sliced apples, lemon juice, ground cinnamon, cardamom, vanilla and a pinch of salt.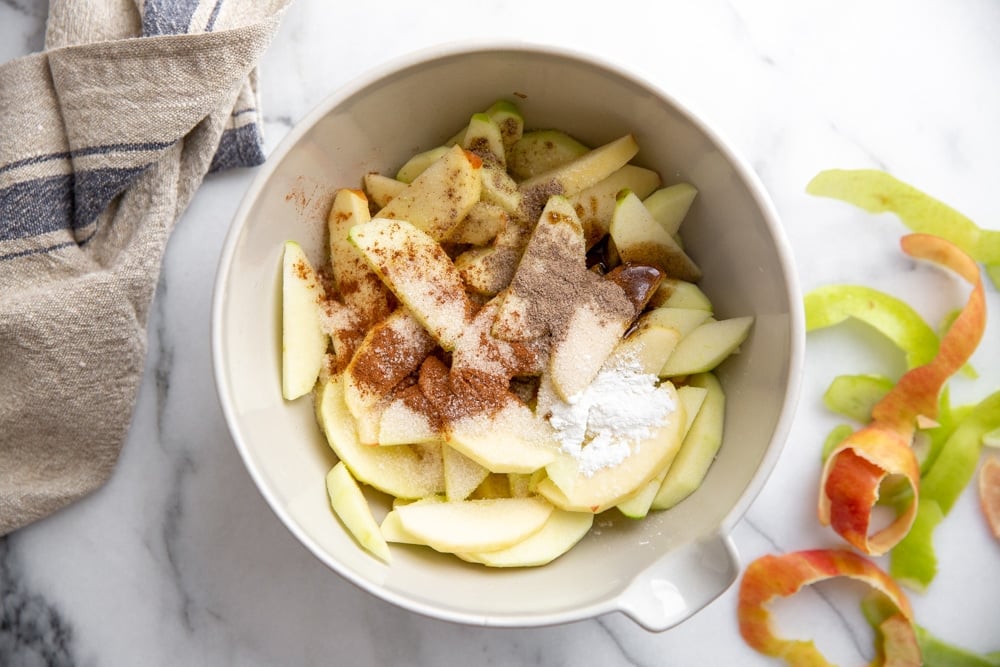 Roll out the pie dough on a lightly floured piece parchment paper (aim for a 10- to 11-inch round). The parchment helps prevent the dough from sticking, and the galette gets baked right on the parchment.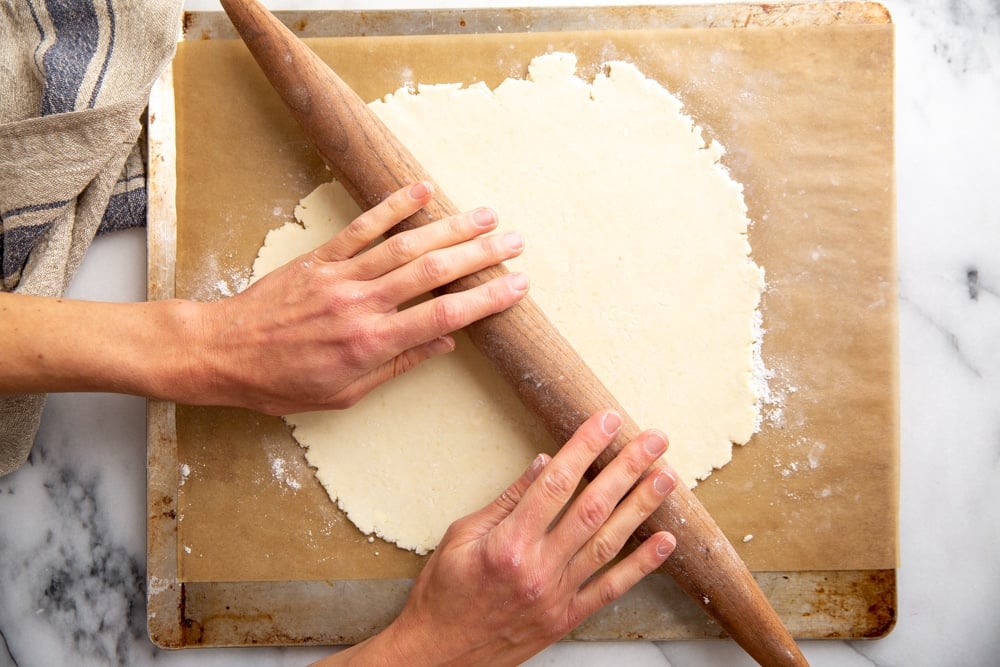 Pile the apples onto the dough, leaving a 1- to 2-inch border. Fold the edges of the dough up over the apples, patching up any tears as needed. Refrigerate the galette for 5-10 minutes (cold dough holds its shape better and results in a flakier crust).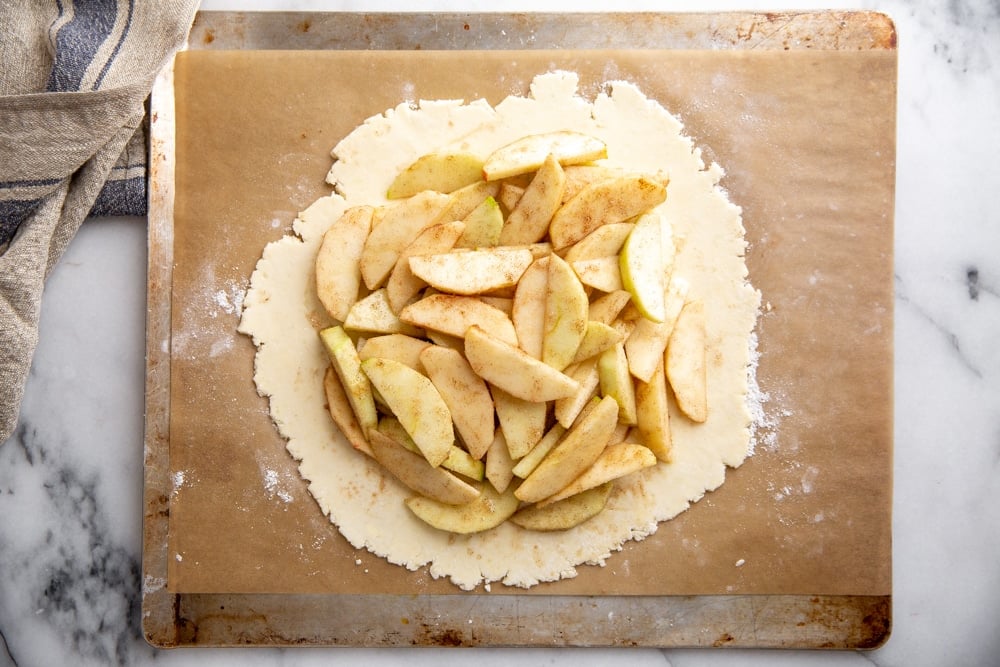 Brush the edges of the galette with egg wash and sprinkle them with turbinado sugar (that will give the crust a delicious crunch). Bake the galette at 375˚F for 50-60 minutes, or until the crust is browned and the apples are tender.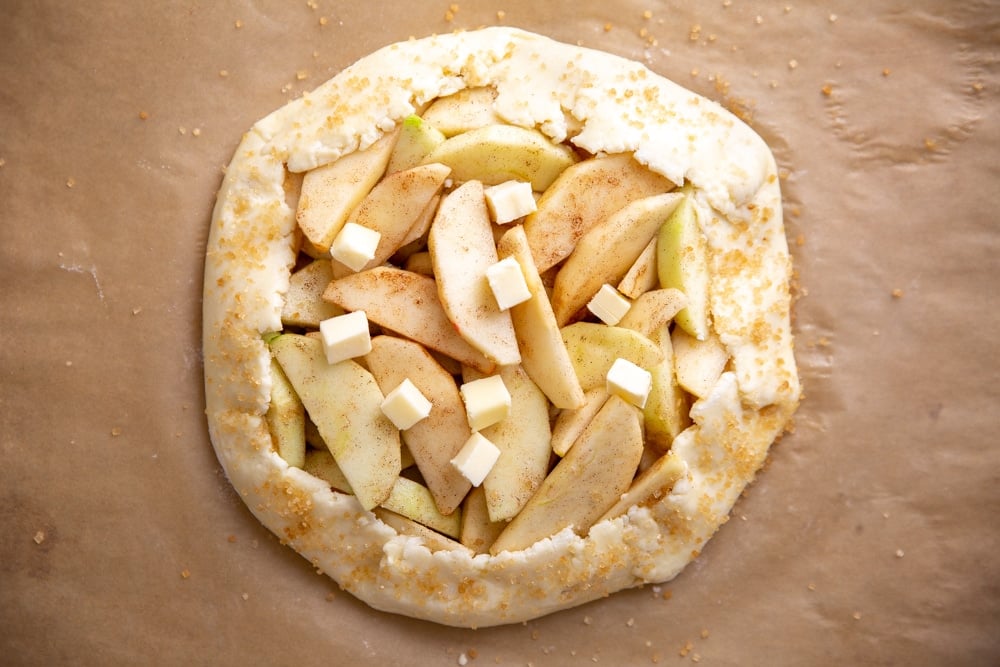 When the galette comes out of the oven, brush the apples with warm apricot jam. This will give the galette a glistening appearance, like French patisserie!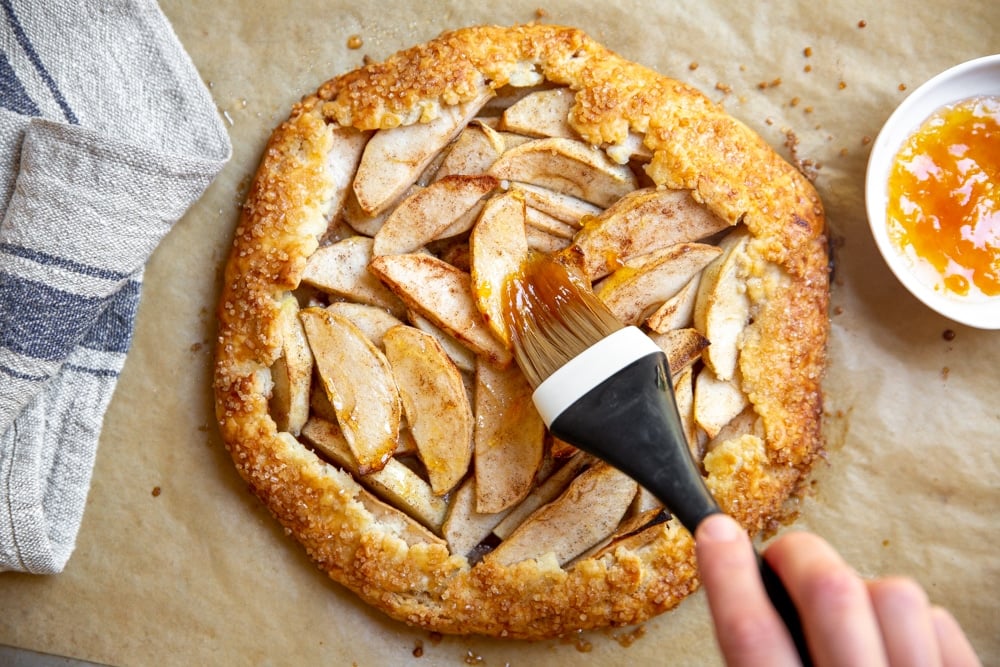 Can you make the galette ahead?
Yes! You can make the pie dough several months in advance and freeze it (meaning you can go ahead and get a jumpstart on your holiday baking now 🙌). The cooked galette can sit at room temperature for up to 1 day before serving.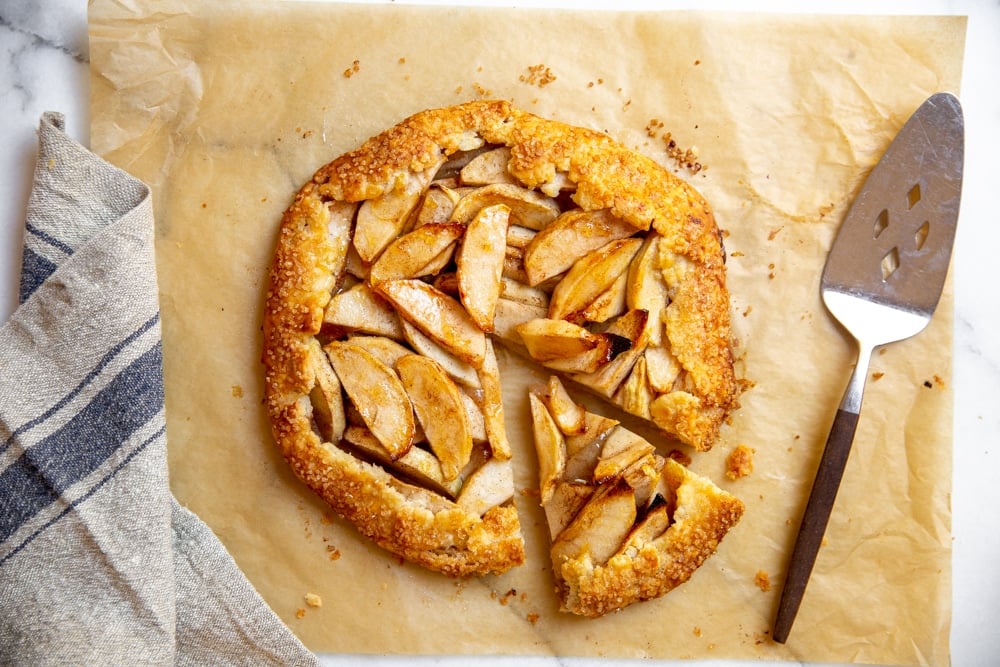 FAQ
What apples are best in a galette?
You can use any apples you like, but I prefer a sweet-tart variety, such as Pink Lady, Fuji, Honeycrisp and/or Granny Smith. You can use one variety, or, better yet, try a mix!
Do you need to peel the apples before baking?
I prefer to peel the apples, as the peels can sometimes be a bit tough or bitter (I use a vegetable peeler - see the video below). However, you can leave the peels on if you prefer.
What is the difference between a crostata and a galette?
A galette hails from France and a crostata comes from Italy, but both terms can refer to a free-form single crust pie. However, a crostata can also refer to an Italian tart with a shortbread crust and fruit jam filling.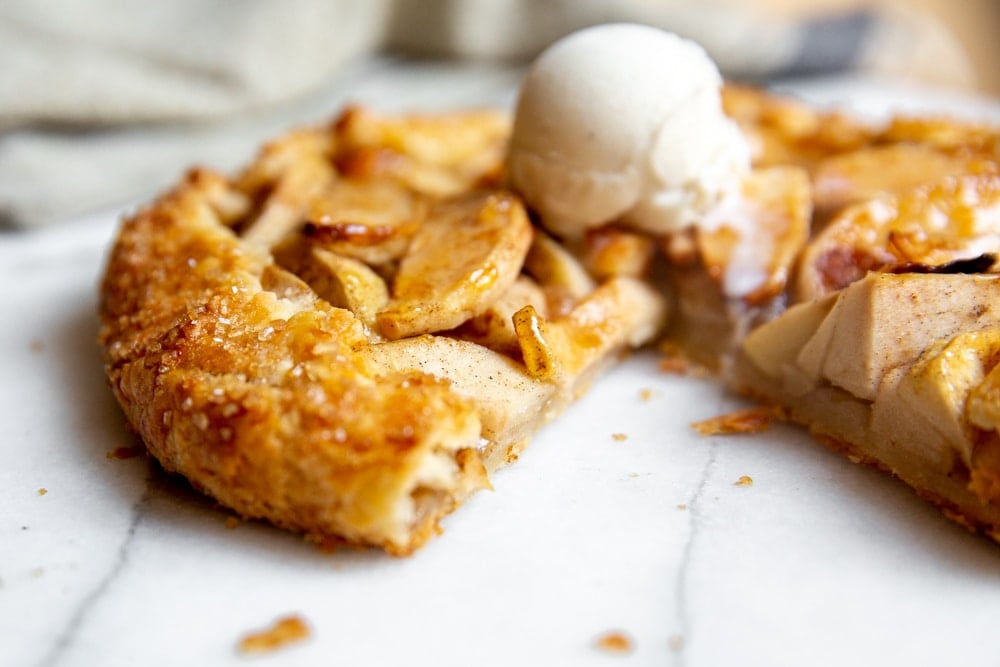 Thanksgiving galette
This apple galette is a must-have on my Thanksgiving table, but I also make it all throughout fall and winter. It's a gorgeous dessert that is sure to give you the warm and fuzzies.
Tips for making this recipe:
*This post contains Amazon and other affiliate links to products I use and love (from which I earn income, at no cost to you). Thank you or supporting From Scratch Fast!
Other gluten free desserts to try:
Watch the video!
Stay connected
I'd love to answer any of your questions and see what you're cooking!! Don't forget to rate this recipe and leave a comment below. Follow along on Instagram, Facebook, YouTube & Pinterest, and be sure to tag @fromscratchfast so that I can share your creations!
Get the recipe!
Easy Cinnamon Vanilla Apple Galette
Anybody can master this beautiful apple galette recipe! With a buttery, flaky crust and a cinnamon spiced apple filling it's a stunning dessert for any occasion (and it can be made gluten free, but nobody will know!). You'll need to start with a half batch of this foolproof pie crust recipe (see the Tips below). You can use any apple variety you like in this galette (I prefer a sweet-tart apple, such as Pink Lady, Fuji, Honeycrisp and/or Granny Smith - go for a mix!). Slice the apples ⅛- to ¼-inch thick (the thicker you slice them the more texture they'll have in the galette - it's a preference thing). The tips of some of the apples will brown as the galette cooks; if you feel as though they're getting too dark you can tent the center of the galette with a piece of foil. Brushing the apples with apricot jam after the galette comes out of the oven gives them a shiny appearance, like a French pastry. Be sure to check out my video above!
Servings:
1
9-inch galette
Ingredients
Filling
3

apples (about 1 ¼ pounds), peeled, cored, and thinly sliced

1

teaspoon

fresh lemon juice

3

tablespoons

sugar

¼

teaspoon

cinnamon

¼

teaspoon

ground cardamom

Pinch

salt

1

teaspoon

vanilla paste, vanilla extract or the seeds from ½ vanilla bean (cut the bean in half lengthwise then scrape out the seeds with the back of a knife)

1

teaspoon

cornstarch
Assembly
Cup 4 Cup gluten free flour or regular all-purpose flour, for dusting

½

batch Easy Pie Crust (see the Tips below!)

1

egg

1

teaspoon

water

2

teaspoons

turbinado sugar

1

tablespoon

cold unsalted butter, cut into small pieces

1 ½

tablespoons

apricot jam
For Serving
Vanilla ice cream or whipped cream (optional)
Instructions
Preheat the oven to 375˚F (190˚C). (If needed, take the pie dough out of the fridge to soften.)
Make the filling
In a large bowl, combine the apples and lemon juice and toss to coat. Add the sugar, cinnamon, cardamom, salt, vanilla and cornstarch. Toss to combine.
Roll out the crust and form the galette
Sprinkle a large sheet of parchment paper lightly with flour. Roll out the dough on the parchment, lifting the dough and lightly flouring the parchment as needed to prevent sticking. You're aiming for a 10- to 11-inch round (it should be about ⅛-inch thick). If the dough cracks, just patch it up as needed. Brush off any excess flour from the parchment paper, then slide the sheet of parchment (with the dough) onto a baking sheet.

Pile the apple filling onto the center of the dough, then spread the apples in an even layer, leaving a 1- to 2-inch border. Fold the dough up over the apples, overlapping it and pinching it together (patch up any tears as needed). Refrigerate the galette for 5-10 minutes.

Beat the egg in a small bowl with the water. Brush the crust lightly with the egg wash (you won't need it all), and sprinkle the crust with turbinado sugar. Dot the butter over the apples. If your kitchen is warm, pop the galette back into the fridge for a few minutes to chill (you want the dough to feel cool to the touch).
Bake
Bake the galette, rotating once, until the crust is a deep golden brown and the juices are bubbling, about 50-60 minutes. Let cool 5 minutes.

Heat the apricot jam in the microwave or on the stovetop until warm and runny (if needed, add a splash of water). Brush the jam over the warm apples. Let the galette cool.
Serve
Serve the galette warm or at room temperature with a scoop of vanilla ice cream or a dollop of whipped cream, if you'd like (yes, please!).
Notes
Do Ahead: The galette can sit at room temperature for up to 1 day (if you prefer, warm it slightly in a 375˚F-400˚F oven for a few minutes before serving). Refrigerate any leftovers.
Tips: