The first time I made this lentil shepherds pie, James looked up from his bowl with stars in his eyes and told me he loved me. Or, maybe he said he loved it. Whatever. I was shimmying in my chair and distracted (if you haven't noticed by now, good food makes me dance!).
Lentil shepherds Pie
A rich base of wine-simmered lentils, mushrooms and vegetables gets capped with an ultra creamy cauliflower and parsnip crust, and the whole shebang is topped with a melted layer of Gruyere cheese. It's the ultimate comfort food, and yet it won't make you pass out after dinner. (You should dance instead, duh).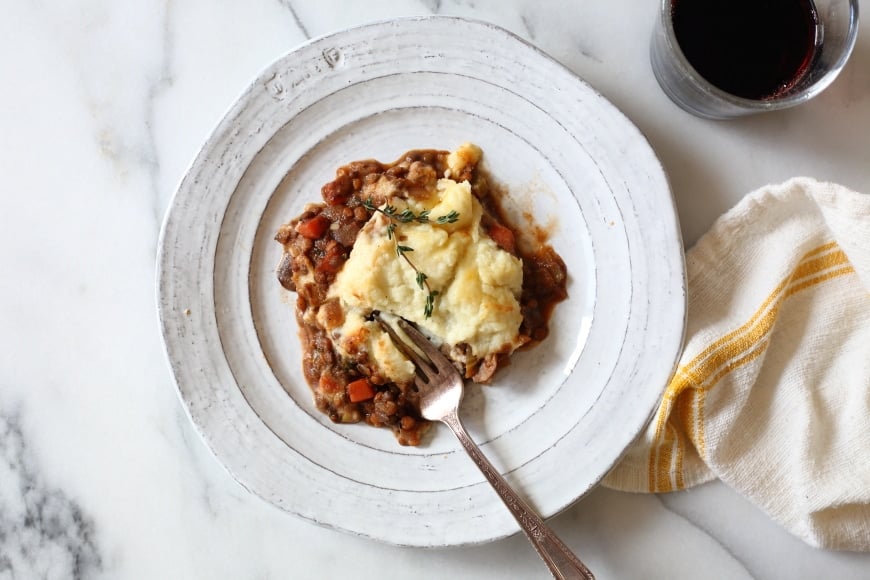 Vegetarian shepherds pie
Instead of using meat, this shepherds pie gets its heft from lentils. I recently discovered store-bought vacuum-sealed cooked lentils, which are a huge time saver (best idea ever!). I use Melissa's brand, which are now widely available (they're usually found refrigerated in the produce section). If you can't find them, however, don't despair! Cooking lentils from scratch is a cinch, and I include instructions in the recipe notes below.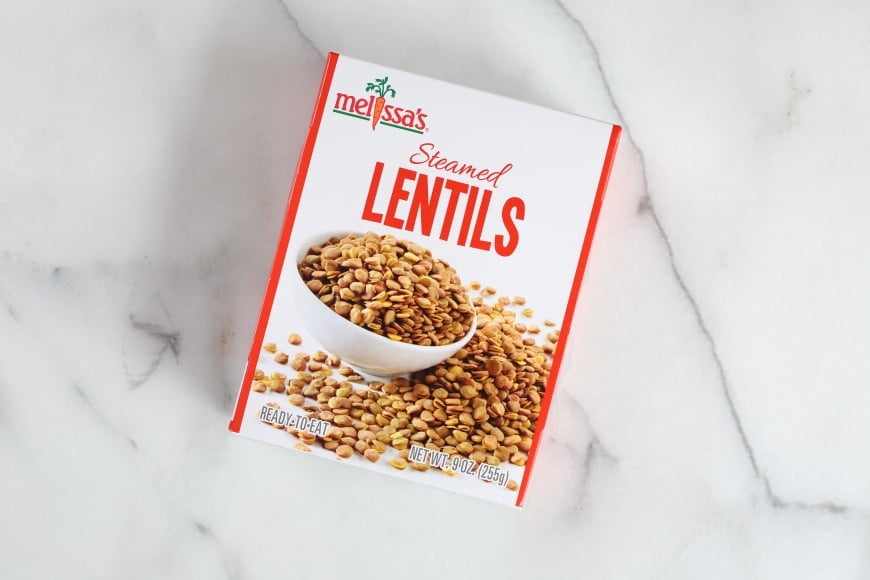 One skillet shepherds pie
I've been on a cast iron skillet kick recently. There's nothing better in winter than placing a warm skillet in the middle of the table that's brimming with delicious food (especially since most cast iron meals are easy one-pan situations). We've been noshing on this chili millet bake, this roast chicken and this warm corn dip. I even did a Facebook live video for Fine Cooking magazine all about cast-iron cooking, where I made a lamb shepherd's pie. I've listed some of my other cast iron favorites below. What are your favorite cast-iron meals?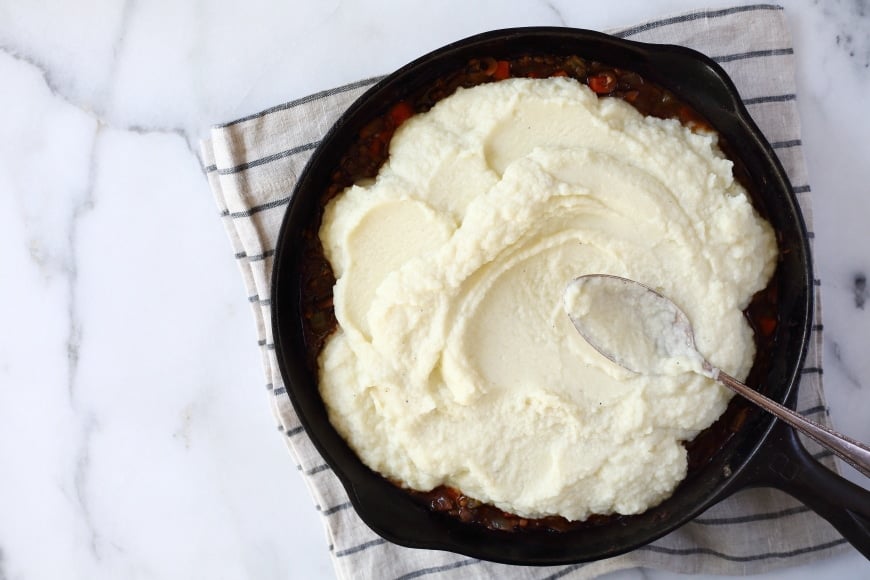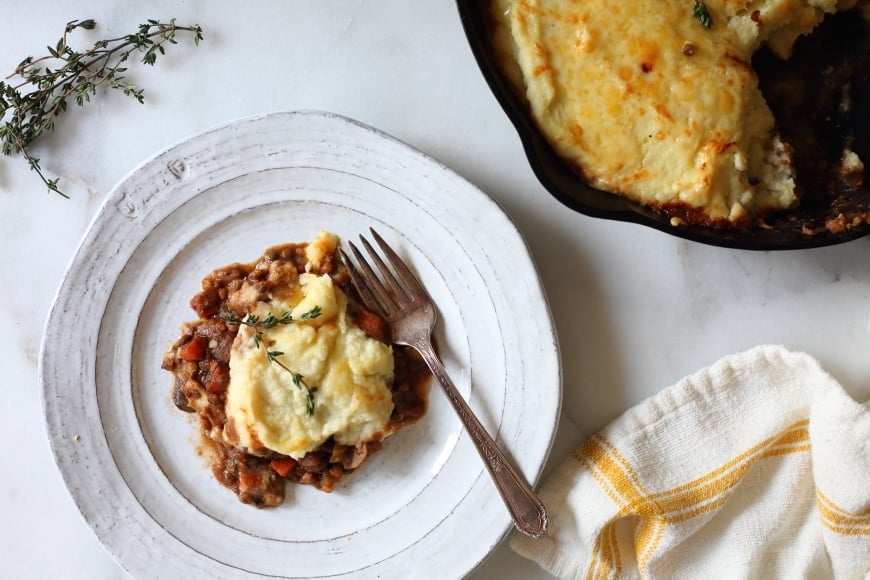 Other cast iron skillet favorites: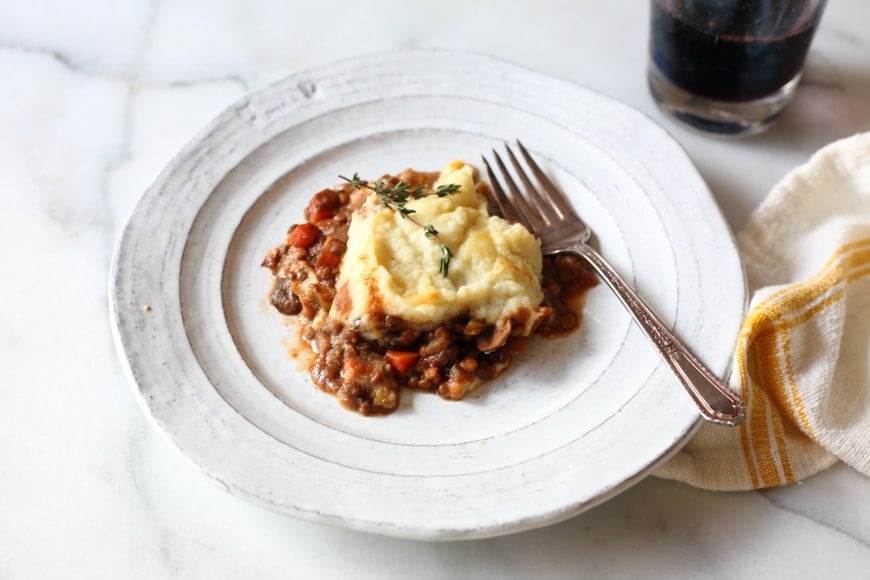 *Melissa's Produce kindly provided the lentils for this post, but I was not compensated for the post, and all opinions/recipes are my own.
Lentil Shepherd's Pie with Creamy Cauliflower Crust (Vegetarian, GF)
This shepherd's pie is nourishing and nutritious, but it tastes darn right indulgent. A rich lentil and mushroom stew gets topped with a creamy cauliflower and parsnip puree and is then capped with a melted layer of Gruyere cheese. It's a satisfying main course or a gorgeous side dish (it's also great for potlucks, as it travels well and can be reheated). This recipe calls for packaged steamed lentils, which are a huge time saver. However, you can absolutely cook your own lentils—see the notes below for instructions. A touch of truffle oil lends umami richness, but you can omit it if preferred. Make sure your cauliflower is right around the two-pound mark for the best consistency in the topping.
Ingredients
Cauliflower crust:
1

garlic clove, peeled and smashed

1

medium parsnip, peeled and finely chopped

½

cup

whole milk

1 2-

pound

head cauliflower, cored and cut into florets

Salt

3

tablespoons

butter

2

teaspoons

fresh lemon juice
Filling:
2

tablespoons

extra virgin olive oil

1

medium onion, finely chopped

2

medium carrots, finely chopped

1

celery stalk, finely chopped

Salt and freshly ground black pepper

8

ounces

cremini mushrooms, sliced ¼-inch thick

1

tablespoon

tomato paste

3

garlic cloves, minced

2

teaspoons

chopped fresh thyme

1 ½

cups

(9 ounces) cooked lentils

½

cup

dry red wine

½

cup

low sodium vegetable or chicken broth

½

teaspoon

sherry vinegar

Pinch

sugar

1-2

teaspoons

truffle oil

1

cup

shredded Gruyere or Comté cheese
Instructions
For the cauliflower crust
Place the garlic clove and parsnip in the bottom of a medium saucepan, and pour in the milk. Pile the cauliflower on top, and season with salt. Bring the milk to a boil over high heat. Reduce the heat to a simmer, cover and cook, stirring occasionally, until the cauliflower is very tender, about 20 minutes (while the cauliflower cooks, prep the filling).

Transfer everything from the pot (including the liquid) into a food processor and add the butter. Process until smooth and creamy. Add the lemon juice, and process to incorporate. Season with salt as needed.
For the filling
Preheat the broiler.

Heat the oil in a 10-inch cast iron or oven-proof skillet over medium-high heat. Add the onion, carrots and celery, and season with salt and pepper. Cook, stirring occasionally, until the vegetables are tender, about 5 minutes.

Add the mushrooms, and season with more salt and pepper. Cook, stirring occasionally, until the mushrooms are softened, about 5 minutes. Add the tomato paste, garlic and thyme, and cook, stirring, until everything smells heavenly, about 1-2 minutes.

Stir in the lentils, and season with salt and pepper. Pour in the wine and bring to a boil, scraping up any bits from the bottom of the pan. Cook until the wine is almost completely evaporated, about 1-2 minutes. Add the broth and bring to a boil. Cook until slightly thickened, about 1 minute longer. Remove the pan from the heat, and stir in the sherry vinegar, sugar and truffle oil (to taste). Taste and season with salt and pepper as needed.

Spoon the cauliflower puree over the filling and spread in an even layer. Sprinkle with the cheese. Broil on the top rack until bubbling and golden, about 5 minutes. Let cool 5 minutes before serving.
Notes
The cauliflower puree can be made up to 1 day in advance. Bring it to room temperature before using.
To cook lentils, place 1 cup of green lentils (preferably Le Puy lentils) in a medium pot with 4 cups of water (feel free to add aromatics, such as a smashed garlic clove, a parsley sprig and/or a bay leaf). Bring the water to a boil, then reduce the heat to a simmer. Let cook 15-20 minutes, or until the lentils are tender but not mushy (they should still have a slight bite). Drain. (This will yield more lentils than you need for this recipe—use leftovers in salads or freeze them for meals down the line).
Stay Connected!
I'd love to hear what you're cooking, and I'm happy to answer any questions! #FromScratchFast
Instagram: FromScratchFast
Facebook: FromScratchFast
Pinterest: FromScratchFast
YouTube: FromScratchFast
*This post contains affiliate links, which means that if you purchase a product through a link you clicked on here, I receive a portion of the sale (at no cost to you). Thank you for supporting FromScratchFast!!