You're going to love this seed cracker recipe! It's a cinch to make and results in perfectly crunchy yet tender crackers.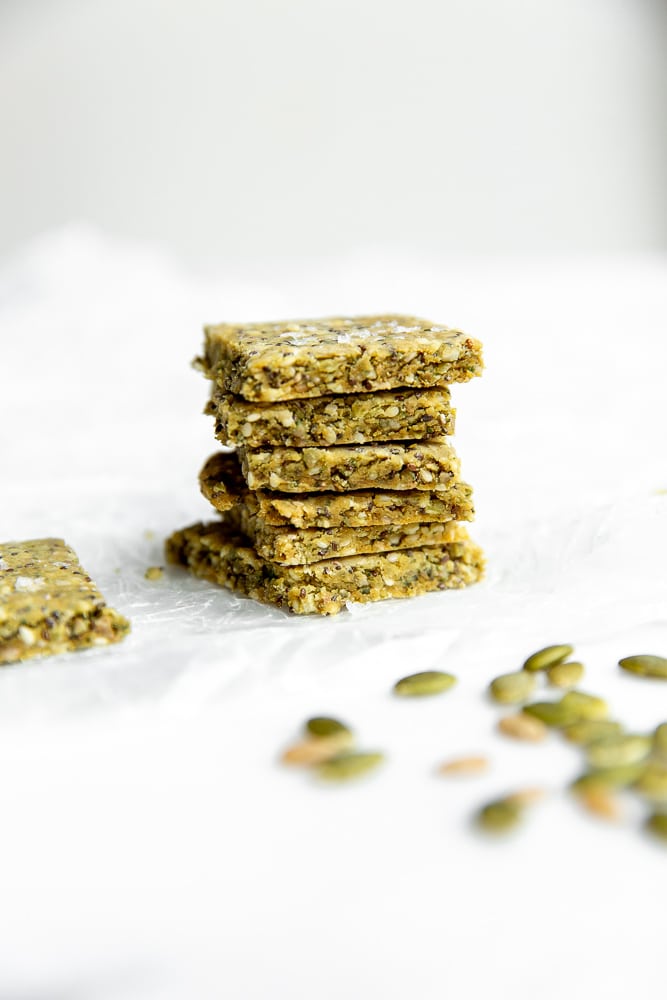 We eat a lot of seed crackers in this house. The minute James gets home from work every night, he digs a box of crackers out of the pantry and a chunk of cheese or some hummus from the fridge, and we have a pre-dinner nibble. But store-bought seed crackers are a gamble. Some are too seedy, some are too hard (tooth-cracking, as James would say) and most are too expensive. That's why I was so excited to try this seed cracker recipe from my friend and fellow food writer Marie Asselin's new book, French Appetizers (Gibbs Smith 2019)!
Multi-seed crackers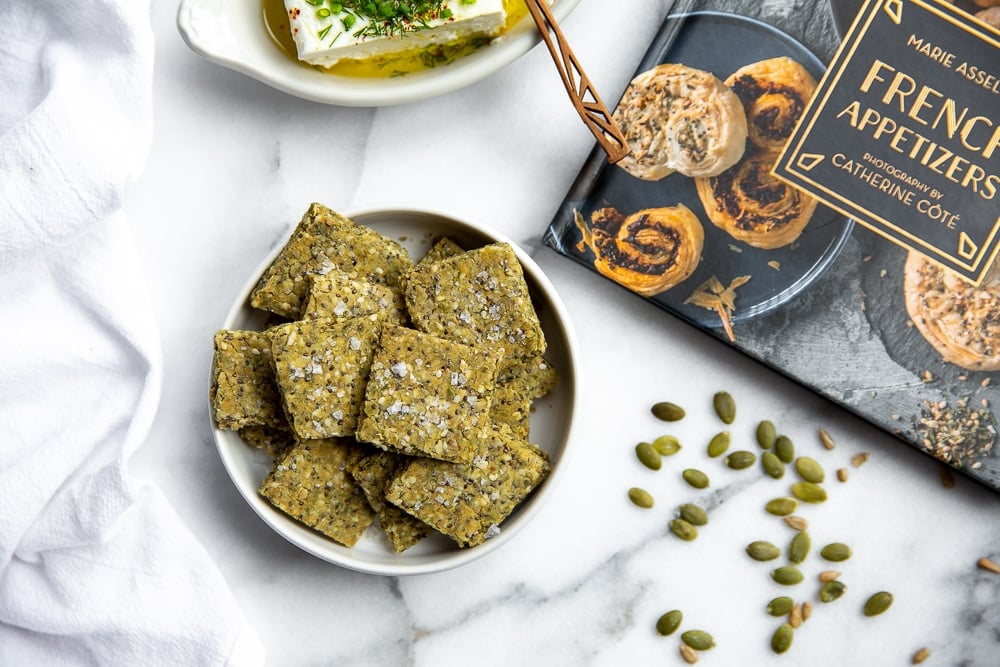 Marie's book is devoted to the art of French entertaining, filled with both classic and contemporary appetizers and nibbles. It immediately transported me back to France, where I studied in college and officially fell in love with food (read more about my time in France in this post featuring my favorite green salad!). I was immediately drawn to this one-bowl seed cracker recipe for its simplicity and its wholesome ingredients, all of which I already had on hand.
Easy gluten-free and vegan crackers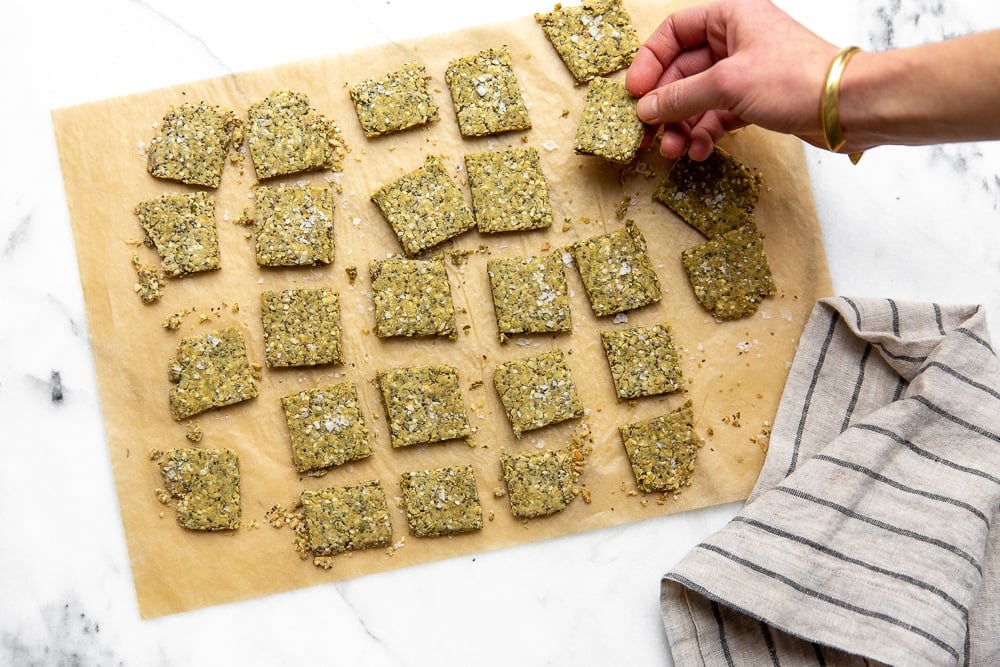 Marie's version incorporates pumpkin seeds, sunflower seeds, flax seeds, chia seeds and sesame seeds. These are all staples in my pantry (er, fridge—I store seeds in airtight containers in my fridge, where they stay fresh for months). The crackers are bound with all-purpose flour, but brown rice flour, which Marie suggests, is a perfect gluten-free alternative. Baking soda gives the crackers a light texture, while olive oil, herbs de Provence and flaky sea salt provide richness and flavor. The crackers are perfect—crispy but not heavy or tough, with an addicting flavor that transports me back to France.
How do you make seed crackers?
You're going to love how easy this seed cracker dough is to make!
Quick and easy dough: Pumpkin seeds and sunflower seeds get quickly pulsed in the food processor until they're coarsely ground, then are scraped into a bowl with the remaining dry ingredients. Olive oil and water are added and the dough is mixed with a fork until everything comes together. Done! There are no eggs or dairy in this recipe!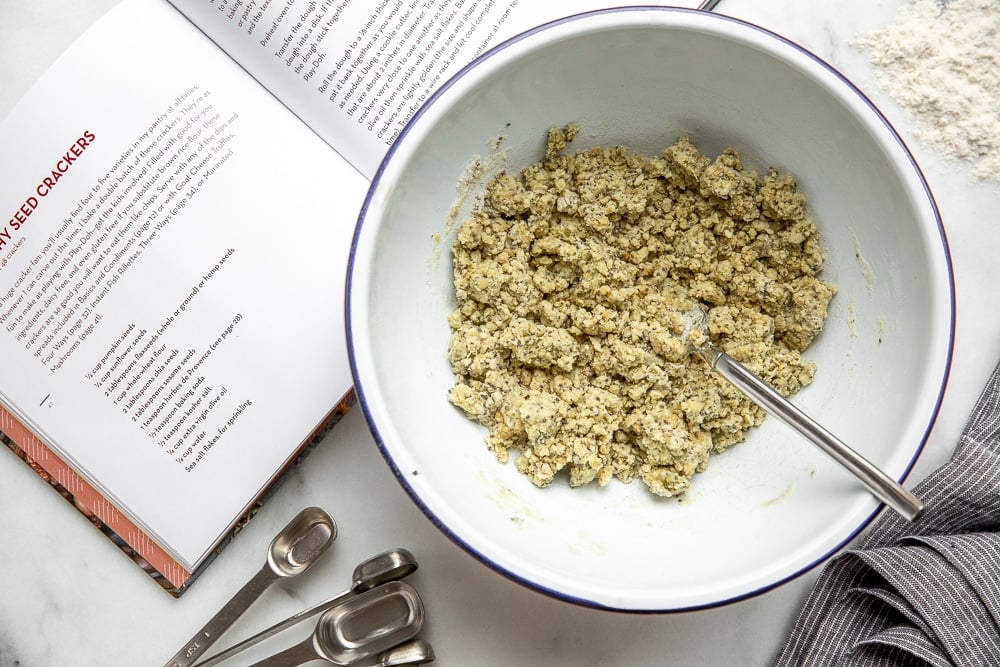 Roll on parchment: I roll out the dough on a piece of parchment paper, which has a two benefits. First, it prevents the dough from sticking when you roll it out (but be sure to flour the surface and rolling pin as needed). The dough will crack as you go but can be easily patched back together. The second benefit is that the entire piece of parchment can be slid directly onto a baking sheet, meaning no transferring of crackers!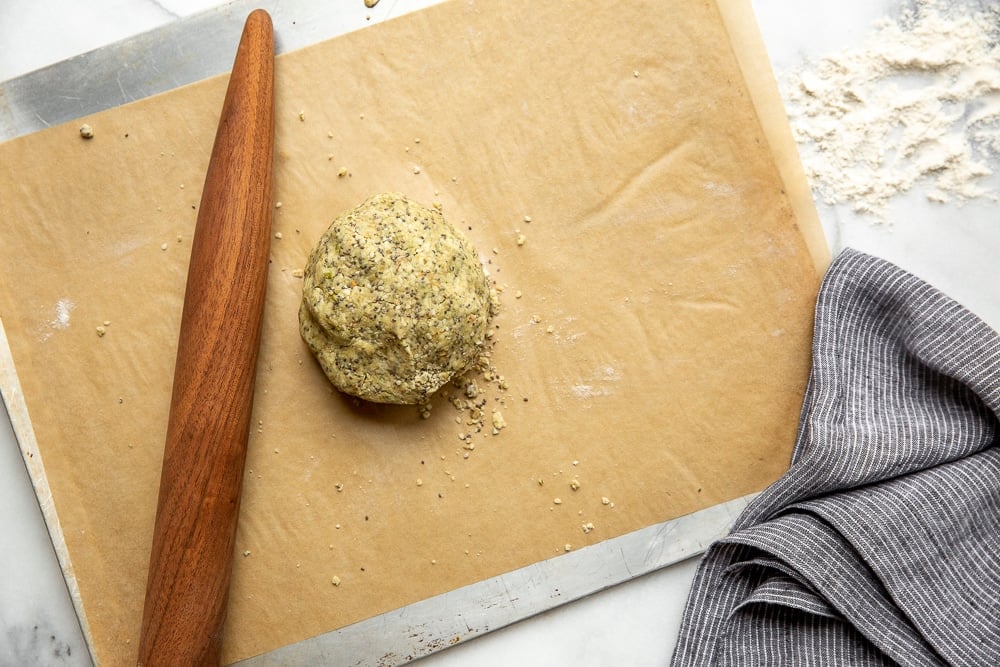 Use a pizza cutter: While you could use a biscuit or cookie cutter to cut out the crackers, I go for an easier approach and simply use a pizza cutter! I love the rustic look and the ease. Nudge the crackers apart and brush off any excess flour.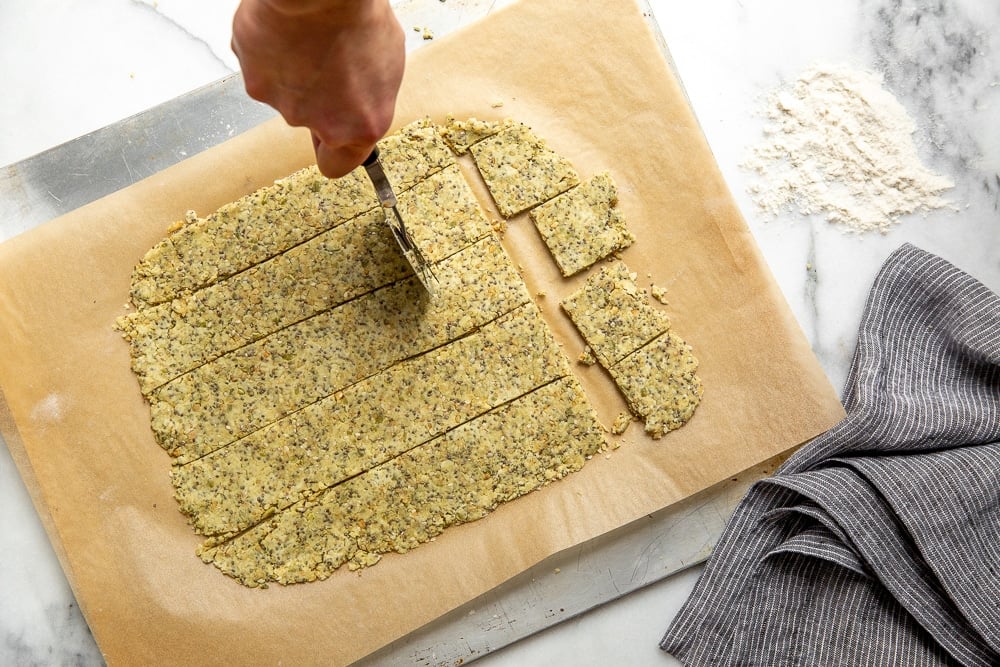 Sprinkle with salt: The last step—and it's an important one—is to spray the crackers with a bit of cooking spray then sprinkle them with flaky sea salt. There's no other salt in the dough, so this is critical for flavor. The salt also gives the crackers a lovely crunch.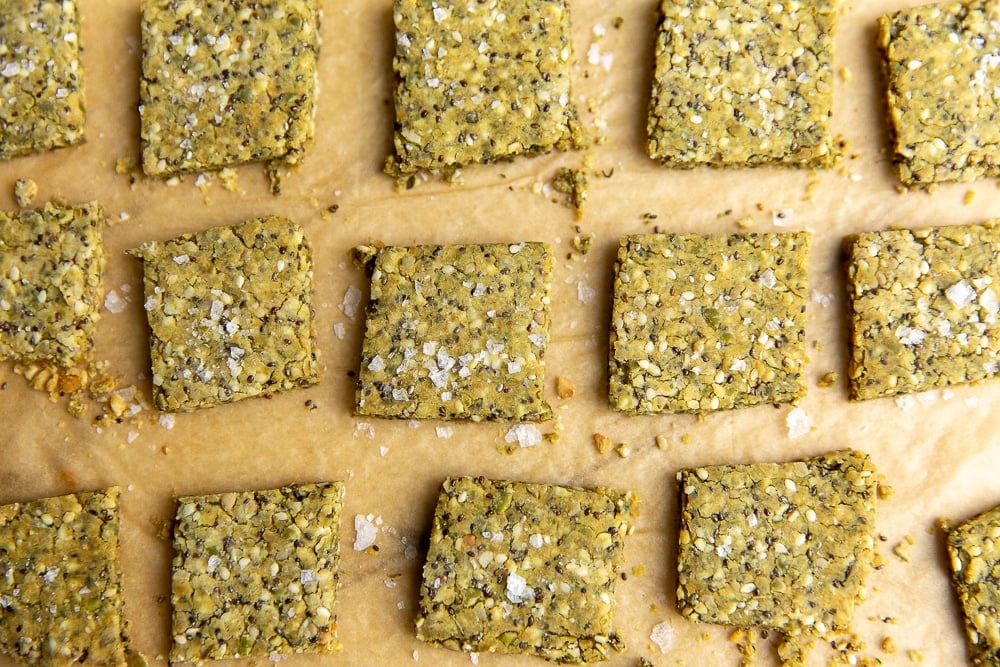 How do you serve seed crackers?
These seed crackers are delicious on their own but are also perfect with dips and cheeses. I especially love them with this creamy pea dip and with soft cheeses, such as goat cheese and feta. One of my favorite ways to serve them is with marinated feta, which couldn't be easier. Place a block of feta in a rimmed dish (or on a small rimmed plate) and drizzle it generously with good quality olive oil. Sprinkle the cheese with a mix of leafy herbs (parsley, dill, tarragon, mint, basil and/or chives are all delicious), and grind some pepper over top (you could also use red pepper flakes for heat).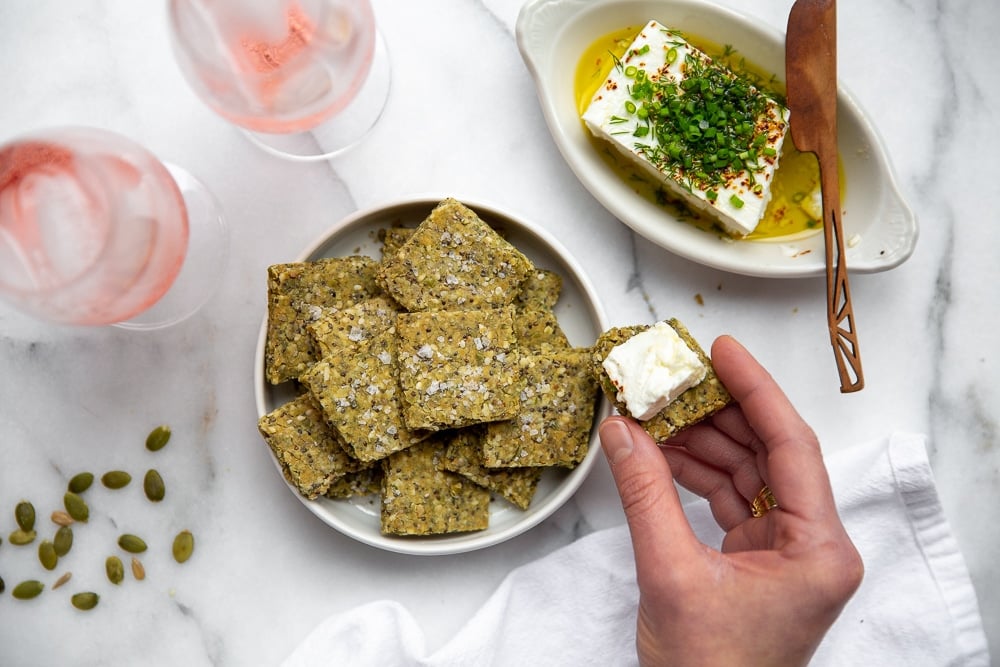 Equipment and tools you'll need for this recipe:
You'll need a food processor to grind the pumpkin seeds and sunflower seeds. As you probably know by now, I love mine like a sister and use it for everything from sauces, to dips, to desserts.

😂

The dough gets rolled on parchment paper, and these pre-cut sheets are one of my favorite kitchen hacks! I store them on top of my fridge.
I love my tapered rolling pin, which gives me the most control when rolling out doughs, as I can accurately gauge the amount of pressure I'm exerting and therefore the thickness of the dough.
Get the seed cracker recipe!
Crunchy Seed Crackers (Gluten Free, Vegan)
Adapted from
French Appetizers
(Gibbs Smith 2019), by Marie Asselin. These crunchy seed crackers come from my friend and fellow blogger, Marie Asselin. Her book is devoted to the art of French entertaining, filled with both classic and contemporary appetizers and nibbles. These crunchy yet tender seed crackers are one of my favorites. Olive oil, sea salt and herbs de Provence give the crackers a lovely flavor (herbs de Provence is found in the spice aisle of most grocery stores, but if you can't find it you could use an Italian seasonings mix or your favorite dried herb blend). The crackers are delicious with dips, such as my
Creamy Pea Dip
, or any soft cheeses. I especially like to serve them with marinated feta, which I make by dousing a block of feta with good quality olive oil and a smattering of fresh herbs. To make the crackers gluten-free, I use brown rice flour as Marie suggests (you can use all-purpose flour in its place).
Ingredients
1/4

cup

pumpkin seeds

1/4

cup

sunflower seeds

1

cup

brown rice flour, plus more for rolling

2

tablespoons

ground flaxseeds (flaxseed meal)

2

tablespoons

chia seeds

2

tablespoons

sesame seeds

1

teaspoon

herbs de Provence

1/2

teaspoon

baking soda

1/2

teaspoon

kosher salt

1/4

cup

extra virgin olive oil

1/4

cup

water

Oil-based cooking spray, such as olive oil or grapeseed oil

Flakey sea salt

for sprinkling
Instructions
Preheat the oven to 350 degrees Fahrenheit (175 degrees Celsius).

In a food processor, combine the pumpkin seeds and sunflower seeds. Pulse until the seeds are coarsely ground. Transfer to a large bowl, and add the brown rice flour, ground flaxseeds, chia seeds, sesame seeds, herbs de Provence, baking soda and salt. Whisk to combine. Drizzle in the olive oil and water. Using a fork or pastry cutter, incorporate the liquids into the dry ingredients until fully combined and the texture resembles coarse meal.

Transfer the dough to a lightly floured piece of parchment paper, and gather it into a disk. If the dough seems crumby, drizzle in 1 to 2 tablespoons of water to help it stick together. The dough should be the texture of Play-Doh.

Roll the dough into a 1/4-inch thickness (Marie rolls it thinner, but I find a slightly thicker cracker works better for the gluten-free version). The dough will crack as you go, but you can simply pat it back together. Lightly sprinkle the dough with more flour as needed to prevent sticking. Using a pizza cutter or knife, cut the dough into 2-inch wide strips (The dough will seem quite tender and delicate, but don't fear! Just patch it back together as needed). Cut the strips crosswise to create 2-inch wide crackers. Nudge the crackers apart slightly and brush off any excess flour using a pastry brush. Carefully slide the parchment (with the crackers on top) onto a baking sheet (a rimless baking sheet works great here). Lightly spray the crackers with cooking spray, and sprinkle them with flaky sea salt. Bake until the edges of the crackers are lightly golden, about 20 to 25 minutes. Transfer to a wire rack and let cool completely before serving.
Recipe Notes
Do Ahead: Store the crackers in an airtight container at room temperature for up to 1 month.
*This post contains affiliate links, which means that if you purchase a product through a link you clicked on here, I receive a portion of the sale (at no cost to you). Thank you for supporting FromScratchFast!!
Stay Connected!
I'd love to hear what you're cooking, and I'm happy to answer any questions! #FromScratchFast
Instagram: FromScratchFast
YouTube: FromScratchFast
Facebook: FromScratchFast
Pinterest: FromScratchFast